Custom Account Alerts
Create custom alerts for your transactions and activity for your accounts.
Text message alerts




Email alerts




Login alerts – through Online Banking
Alerts can be set up for:
Events

Incoming wires
Incoming ACH credits/debits
Insufficient funds (NSF)
Statements or notices available
Maturing loans
Maturing CD's
Transfers failed (NSF)
Expired transfers
Email address change
Mobile number change
Password change

Balances

Fall above a set amount you choose
Fall below a set amount you choose

Items

If a check or other specific item clears a certain account

Personal

Set up personal alert messages as reminders 
One time only or recurring reminders
To sign up for account alerts, you must have online banking. 
---
Fraud Center Alerts
Receive alerts from SMB&T Fraud Center, which monitors debit card activity to help prevent fraud.
Fraud Center alerts are active on all debit cards (You do not need to sign up for these)
These alerts are based on transactions in real time and Fraud Center messages MUST be responded to

There are time limits to respond in order to prevent further high risk transactions

Fraud Center Alerts Process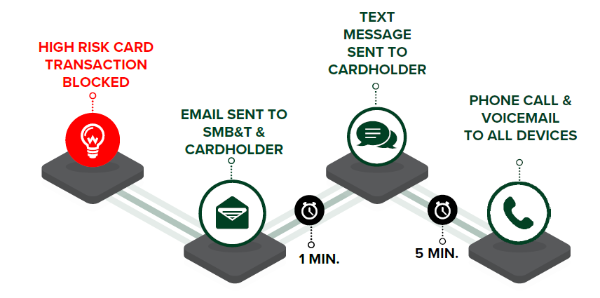 When a high risk card transaction is blocked:
An email is sent to the cardholder
After 1 minute without a response, a text message will be sent to the cardholder
After 5 minutes without a response, a phone call and voicemail is sent to all cardholder devices
Cardholder must respond to verify it is a legitimate transaction or report the transaction as fraud
After 15 minutes without a response, the card is turned off to prevent further potential fraud
Save the contact information below so you will know when you are contacted by Fraud Center:
TEXT SHORTCODE   328-74

PHONE   800-417-4592

EMAIL    FraudCtr1161@smb-t.com
Message and data rates from your mobile carrier may apply.