Economic Impact Payments
3/15/2020:
NOTICE: The Internal Revenue Service (IRS) and the Treasury Department delivered a third round of Economic Impact Payments. 
COVID-19 Financial Assistance Programs
Southern Michigan Bank & Trust (SMB&T) has announced relief efforts for customers directly affected by COVID-19.
"Our thoughts are with those who are currently experiencing unexpected financial stress due to the recent pandemic," said John Castle, Chairman and Chief Executive Officer. "We are here, and we are prepared to help our customers through this difficult time."
The following are potential means of assistance:
Change in Withdraw Limits

Due to recent regulatory changes and in an effort to continue to assist our customers with managing their finances, effective immediately we are temporarily suspending the six (6) automated transaction limit on savings and money market accounts. Southern will also be temporarily suspending the $5.00 excess transaction fee on savings accounts.

WHAT IS REG D?

Reg D is a federal regulation that limits the number and type of withdrawals from your savings and money market accounts to six per month, per account.

HOW DOES THIS IMPACT ME?

This change temporarily allows you to conduct more than six withdrawals out of your savings/money market account without penalty.

Mortgage and Home Equity Loan Programs

Customers with a Freddie Mac loan serviced by SMB&T may request a 6 to 12 month forbearance.
Customers with loans held in SMB&T's loan portfolio may request a 90-day payment deferment.
Customers seeking relief for a residential mortgage can contact our Retail Loan Servicing Department at (517) 279-5500 or (800) 379-7628 ext: 5731. We will work with customers on a case-by-case basis.
Consumer Loan Programs

Customers can request a 90-day deferment.
Customers seeking relief for a consumer loan can contact our Retail Loan Servicing Department at (517) 279-5500 or (800) 379-7628 ext: 5731. We will work with customers on a case-by-case basis.
Regarding Commercial Loans, please contact our Commercial Lending Department for potential relief opportunities at 

 

(517) 279-5500

 or (800) 379-7628.
For any additional questions, please call our toll-free number.
---
Branchless Banking Services
The chart below shows common banking transactions, and the different solutions we have to assist you.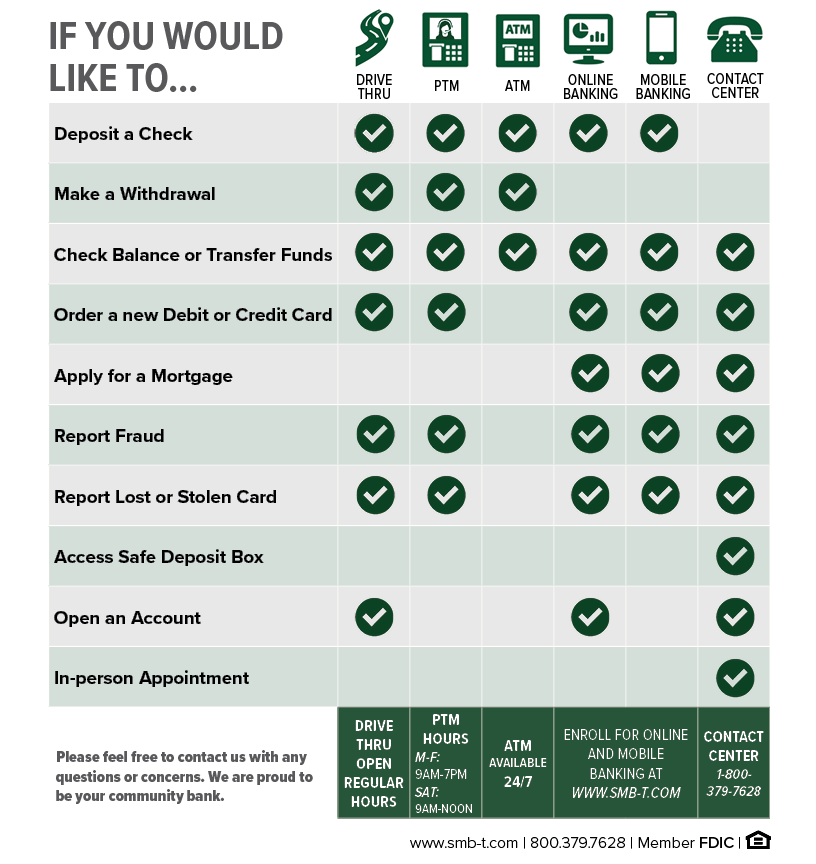 ---
Employee/Customer Safety
Southern has adopted social distancing practices and other mitigation measures necessary to provide employees and customers a work environment reducing safety and health hazards. These measures include, without limitation: restricting the number of employees present on premises to no more than is strictly necessary to perform the bank's critical infrastructure functions; promoting remote work to the fullest extent possible; keeping individuals who are on premises at least six feet from one another to the maximum extent possible; increasing standards of facilities cleaning and disinfection to limit exposure to COVID-19; and any other social distancing practices and mitigation measures recommended by the Centers for Disease Control.